all news
October 29, 2021
Review of motor oils in EnergyMarket.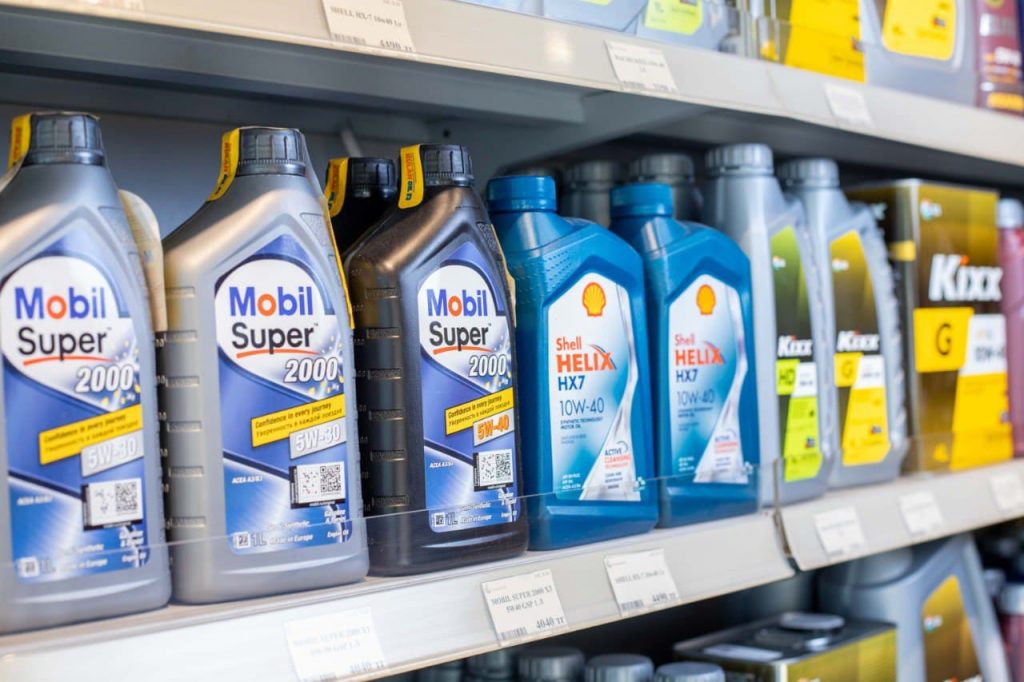 All the necessary fluids for your car are in out supermarkets.
We have prepared an overview of different brands of motor oils with prices to make it easier for you to navigate our range.
These products can be found on the shelves of all EnergyMarket. Prices are valid as of 29.10.21.
| | |
| --- | --- |
| МАСЛО МОТОРНОЕ CASTROL EDGE 0W-40 A3/B4 1 Л. | 5380 |
| МАСЛО МОТОРНОЕ CASTROL GTX MAGNATEC 5W40 1Л. | 3310 |
| МАСЛО МОТОРНОЕ CASTROL GTX ULTRA 10W-40 A3/B4 1 Л. | 2240 |
| МАСЛО МОТОРНОЕ CASTROL GTX ULTRA 10W-40 A3/B4 4 Л. | 7670 |
| МАСЛО МОТОРНОЕ CASTROL MAGNATEC 10W-40 A3/B4 1 Л. | 3680 |
| МАСЛО МОТОРНОЕ CASTROL MAGNATEC 10W-40 A3/B4 1 Л. | 4600 |
| МАСЛО МОТОРНОЕ CASTROL MAGNATEC 10W-40 A3/B4 1 Л. | 3680 |
| МАСЛО МОТОРНОЕ CASTROL MAGNATEC 10W-40 A3/B4 1 Л. | 3680 |
| МАСЛО МОТОРНОЕ CASTROL MAGNATEC 10W-40 A3/B4 1 Л. | 2470 |
| МАСЛО МОТОРНОЕ CASTROL MAGNATEC 10W-40 A3/B4 1 Л. | 2470 |
| МАСЛО МОТОРНОЕ CASTROL MAGNATEC 10W40 A3/B4 4 Л. | 8910 |
| МАСЛО МОТОРНОЕ CASTROL MAGNATEC 10W-40 A3/B4 4 Л. | 8910 |
| МАСЛО МОТОРНОЕ CASTROL MAGNATEC 10W-40 A3/B4 4 Л. | 8910 |
| МАСЛО МОТОРНОЕ CASTROL MAGNATEC 5W-30 AP 1 Л. | 3380 |
| МАСЛО МОТОРНОЕ CASTROL MAGNATEC 5W-30 AP 1 Л. | 3380 |
| МАСЛО МОТОРНОЕ CASTROL MAGNATEC 5W-30 AP 1 Л. | 3380 |
| МАСЛО МОТОРНОЕ CASTROL MAGNATEC 5W-40 A3/B4 4 Л. | 12210 |
| МАСЛО МОТОРНОЕ CASTROL MAGNATEC 5W-40 C3 1 Л. | 3310 |
| МАСЛО МОТОРНОЕ CASTROL MAGNATEC DIESEL 10W40 1 Л. | 2540 |
| МАСЛО МОТОРНОЕ CASTROL MAGNATEC DIESEL 5W-40 1 Л. | 2540 |
| МАСЛО МОТОРНОЕ CASTROL П/С GTX MAGNATEC 10W40 4 Л. | 8910 |
| МАСЛО МОТОРНОЕ CASTROL СИН. DIESEL 10W40 4 Л. | 9210 |
| МАСЛО МОТОРНОЕ KIXX ПОЛУСИНТЕТИКА G 10W40 SJ 1 Л. | 3350 |
| МАСЛО МОТОРНОЕ KIXX ПОЛУСИНТЕТИКА G 10W40 SJ 4 Л. | 10150 |
| МАСЛО МОТОРНОЕ KIXX ПОЛУСИНТЕТИКА G 10W40 SL 4 Л. | 12180 |
| МАСЛО МОТОРНОЕ KIXX СИНТЕТИКА G 10W40 SL/CF 1 Л. | 2940 |
| МАСЛО МОТОРНОЕ KIXX СИНТЕТИКА G1 5W40 SN/CF 1 Л. | 3480 |
| МАСЛО МОТОРНОЕ KIXX СИНТЕТИКА G1 5W40 SN/CF 4 Л. | 8040 |
| МАСЛО MOBIL ATF 220 PREMIUM 1 Л. | 3890 |
| МАСЛО  MOBIL ATF 320 PREMIUM 1 Л. | 4730 |
| МАСЛО МОТОРНОЕ MOBIL SUPER  2000 X1 10W-40 1 Л. | 4480 |
| МАСЛО МОТОРНОЕ MOBIL SUPER  2000 X1 10W-40 1 Л. | 4480 |
| МАСЛО МОТОРНОЕ MOBIL ULTRA 10W-40 1 Л. | 4530 |
| МАСЛО МОТОРНОЕ MOBIL ПОЛУСИНТЕТИКА ULTRA 10W40 1 Л | 3190 |
| МАСЛО МОТОРНОЕ ROSNEFT MAGNUM MAXTEC 10W-40 SL/CF 1 Л. | 1640 |
| МАСЛО МОТОРНОЕ ROSNEFT MAGNUM MAXTEC 5W-40 SL/CF 1 Л. | 2000 |
| МАСЛО МОТОРНОЕ ROSNEFT MAGNUM ULTRATEC 5W-40 SN/CF 1 Л. | 2860 |
| МАСЛО МОТОРНОЕ ROSNEFT MAXIMUM 10W-40 SG/CD 1 Л. | 1470 |
| МАСЛО МОТОРНОЕ SHELL HELIX ULTRA 0W40 A3/B3/B4 1 Л. | 5220 |
| МАСЛО МОТОРНОЕ SINTEC П/С ЛЮКС SAE 10W40 1 Л. | 2300 |
| МАСЛО МОТОРНОЕ SINTEC СТАНДАРТ SAE 10W40 SG/CD 1Л. | 1060 |
| МАСЛО МОТОРНОЕ SINTEC СТАНДАРТ SAE 10W40 SG/CD 1Л. | 1470 |
| МАСЛО МОТОРНОЕ SINTEC СТАНДАРТ SAE 10W-40 API SG/CD 5 Л. | 7980 |
| МАСЛО МОТОРНОЕ SINTEC СУПЕР SAE 10W-40 SG/CD 1 Л. | 2010 |
| МАСЛО МОТОРНОЕ SINTEC СУПЕР SAE 10W-40 API SG/CD 4 Л. | 6610 |
| МАСЛО МОТОРНОЕ SINTEC СУПЕР SAE 15W-40 SG/CD 1Л | 1890 |
| МАСЛО МОТОРНОЕ SINTEC ЭКСТРА SAE 20W50 API SG/CD 1 Л. | 1890 |
| МАСЛО МОТОРНОЕ SINTEC ЛЮКС SAE 5W40 API SJ/CF 1 Л. | 2400 |
| МАСЛО МОТОРНОЕ SINTOIL 10W40 1 Л. | 1450 |
| МАСЛО МОТОРНОЕ SINTOIL 10W40 5 Л. | 5910 |
| МАСЛО МОТОРНОЕ SINTOIL 15W40 4 Л. | 3910 |
| МАСЛО МОТОРНОЕ SINTOIL 15W40 1 Л. | 1140 |
| МАСЛО МОТОРНОЕ SINTOIL П/С ЛЮКС  5W40 1 Л. | 1520 |
| МАСЛО МОТОРНОЕ SINTOIL П/С СУПЕР SAE 10W40  4 Л. | 4250 |
| МАСЛО МОТОРНОЕ SINTOIL СУПЕР SAE 10W40 API 1 Л. | 1480 |
| МАСЛО МОТОРНОЕ ЛУКОЙЛ ДИЗЕЛЬ М-10ДМ 5 Л. | 5800 |
| МАСЛО МОТОРНОЕ ЛУКОЙЛ 10W-40  4 Л. | 6590 |
| МАСЛО МОТОРНОЕ ЛУКОЙЛ 2Т 1 Л. | 1500 |
| МАСЛО МОТОРНОЕ ЛУКОЙЛ GENESIS ADVANCED 10W-40 SN/CF 1 Л. | 2430 |
| МАСЛО МОТОРНОЕ ЛУКОЙЛ GENESIS ARMORTECH 5W-40 SN/CF 1 Л. | 4650 |
| МАСЛО МОТОРНОЕ ЛУКОЙЛ GENESIS ARMORTECH А5В5 5W-30 SL/CF 1 Л. | 3630 |
| МАСЛО МОТОРНОЕ ЛУКОЙЛ GENESIS CLARITECH 5W-30 1 Л. | 3650 |
| МАСЛО МОТОРНОЕ ЛУКОЙЛ GENESIS GLIDETECH 5W-30 1 Л. | 3200 |
| МАСЛО МОТОРНОЕ ЛУКОЙЛ GENESIS POLARTECH 0W-40 1 Л. | 4800 |
| МАСЛО МОТОРНОЕ ЛУКОЙЛ АВАНГАРД УЛЬТРА 10W40 CI-4/SL 5 Л. | 5900 |
| МАСЛО МОТОРНОЕ ЛУКОЙЛ АВАНГАРД ЭКСТРА 10W/40 CH-4/CG-4/SJ 5 Л. | 6130 |
| МАСЛО МОТОРНОЕ ЛУКОЙЛ П/С 10W-40  SG/CD 4 Л. | 6910 |
| МАСЛО МОТОРНОЕ ЛУКОЙЛ П/С ЛЮКС 5W-40 SL/CF 5 Л. | 10590 |
| МАСЛО МОТОРНОЕ ЛУКОЙЛ П/С СТАНДАРД 10W40 5 Л. | 6690 |
| МАСЛО МОТОРНОЕ ЛУКОЙЛ ПОЛУСИНТЕТИКА ЛЮКС 10W40 1 Л. | 2570 |
| МАСЛО МОТОРНОЕ ЛУКОЙЛ ПОЛУСИНТЕТИКА ЛЮКС 5W40 1 Л. | 3750 |
| МАСЛО МОТОРНОЕ ЛУКОЙЛ ПОЛУСИНТЕТИКА СУПЕР 5W-40 SG/CD 4 Л. | 8580 |
| МАСЛО МОТОРНОЕ ЛУКОЙЛ СИНТЕТИКА ЛЮКС 5W40 1 Л. | 3250 |
| МАСЛО МОТОРНОЕ ЛУКОЙЛ СТАНДАРТ 10W-40 SF/CC 1 Л. | 1980 |
| МАСЛО МОТОРНОЕ ЛУКОЙЛ СТАНДАРТ 15W-40 1 Л. | 1980 |
| МАСЛО МОТОРНОЕ ЛУКОЙЛ СТАНДАРТ 15W-40 SF/CC 4 Л. | 4090 |
| МАСЛО МОТОРНОЕ ЛУКОЙЛ СУПЕР 10W-40 SG/CD  1 Л. | 2080 |
| МАСЛО МОТОРНОЕ ЛУКОЙЛ СУПЕР 15W40 4 Л. | 4700 |
| МАСЛО МОТОРНОЕ ЛУКОЙЛ СУПЕР ЛУКОЙЛ  5W-40 SG/CD 1 Л. | 2580 |
| МАСЛО МОТОРНОЕ ЛУКОЙЛ СУПЕР 15W40 1 Л. | 1940 |
| МАСЛО МОТОРНОЕ ЛУКОЙЛ УНИВЕРСАЛ СУПЕР 10W-40 5 Л. | 7020 |
| МАСЛО МОТОРНОЕ ROLF 5W-30 1Л Ж/Б | 3630 |
| МАСЛО МОТОРНОЕ ROLF 5W-40 1Л Ж/Б | 3340 |
| МАСЛО МОТОРНОЕ ROLF 10W-40 1Л Ж/Б | 2980 |
| МАСЛО МОТОРНОЕ ROLF 5W-30 4Л Ж/Б | 7760 |
| МАСЛО МОТОРНОЕ ROLF 10W-40 SJ/CF 4Л Ж/Б | 8120 |
| МАСЛО МОТОРНОЕ ENEOS PREMIUM 5W-40 1Л Ж/Б | 3770 |
| МАСЛО МОТОРНОЕ ENEOS PREMIUM 5W-40 4Л Ж/Б | 11460 |
| МАСЛО МОТОРНОЕ ENEOS SUPER 10W-40 0,94Л Ж/Б | 2690 |
| МАСЛО МОТОРНОЕ ENEOS SUPER 10W-40 4Л Ж/Б | 10730 |
| МАСЛО МОТОРНОЕ SINTEC П/С ЛЮКС SAE 5W40 SL/CF 1Л | 1380 |
| МАСЛО МОТОРНОЕ ЛУКОЙЛ ЛЮКС 10W-40 SL/CF   4Л | 7740 |
| МАСЛО МОТОРНОЕ ЛУКОЙЛ СТАНДАРТ 15W-40 SF/CC 4Л | 6400 |
| МАСЛО МОТОРНОЕ МИНЕРАЛЬНОЕ SINTOIL ЭКСТРА SAE 20W50 5 Л. | 7830 |
| МАСЛО МОТОРНОЕ МИНЕРАЛЬНОЕ SINTOIL ЭКСТРА SAE 20W50 1 Л. | 1150 |
| МОТОРНОЕ МАСЛО SPECIAL TEC AA 5W-30  (1Л) СИНТЕТ. | 6230 |
| МАСЛО МОТОРНОЕ  TOP TEC 4100 5W-40  (1Л) СИНТЕТ. | 6520 |
| МАСЛО МОТОРНОЕ SUPER LEICHTLAUF SAE 10W-40  (1Л) СИНТЕТ | 5310 |
| МАСЛО МОТОРНОЕ SINTEC ЛЮКС SAE 10W40 API SL/CF 4Л | 5250 |
| МАСЛО МОТОРНОЕ SINTOIL ЛЮКС SAE 10W40 API SJ/CF 4 Л. | 4880 |
| МАСЛО МОТОРНОЕ SINTEC П/С ЛЮКС SAE 10W40 4 Л. | 4880 |
| МАСЛО МОТОРНОЕ SINTEC MOTO 2Т 1Л | 2220 |
| МАСЛО МОТОРНОЕ KIXX СИНТЕТИКА G1 5W30 1Л | 2630 |
| МАСЛО МОТОРНОЕ ROLF 5W-40 4Л Ж/Б | 9860 |
| MANNOL CLASSIC 10W40 SN/CF   1L | 2850 |
| MANNOL DIESEL EXTRA 10W40 CH-4/SL   1L | 2850 |
| MANNOL ELITE 5W40 SN/CF   1L | 3700 |
| MANNOL GASOIL EXTRA 10W40 SL/CF   1L | 3370 |
| MANNOL UNIVERSAL 15W40 SG/CD   1L | 2770 |
| MANNOL ATF DEXRON DII   1L | 2850 |
| MANNOL ATF DEXRON DIII   1L | 3130 |
| CHEMPIOIL SUPER SL 10W40 SL/CH-4 1L METAL | 2500 |
| CHEMPIOIL TURBO DI 10W40 CH-4/SL1L METAL | 2390 |
| CHEMPIOIL ULTRA LRX 5W30 SN/CF 1L METAL | 3630 |
| CHEMPIOIL ULTRA LRX 5W30 SN/CF 1L METAL | 3630 |
| CHEMPIOIL ULTRA XTT 5W40 SN/CF 1L METAL | 3060 |
| FANFARO TDX 10W40 CF-4/SL   1L | 2590 |
| FANFARO TSX 10W40 SL/CF   1L | 2590 |
| FANFARO VSX 5W40 SN/CF   1L | 3150 |
| MANNOL ATF AG 52 AUTOMATIC SPECIAL 1L | 3680 |
| LEICHTLAUF HIGH TECH 5W-40  (1л) синтет.моторное масло | 6530 |
| MOBIL  SUPER 2000  0w40 1л | 7750 |
| SHELL HX-7 10w40 1л | 4490 |
| SHELL HX-7 5w40 1л | 4490 |
| МАСЛО МОТОРНОЕ SINTEC СУПЕР SAE 15W-40 SG/CD 4Л | 6380 |
| МАСЛО МОТОРНОЕ ЛУКОЙЛ СУПЕР 5W-40 SF/CC 5Л | 10510 |
| МАСЛО МОТОРНОЕ CASTROL MAGNATEC DIESEL 10W40 A3/B4 1 Л. | 2660 |
| МАСЛО ENEOS SUPER GASOLINE SL 10W-40 1Л | 3120 |
| МАСЛО МОТОРНОЕ ЛУКОЙЛ GENESIS UNIVERSAL 10W-40 SN/CF 4 Л. | 9230 |
| МАСЛО ЛУКОЙЛ ЛЮКС 10W-40 SL/CF 5Л | 9570 |
| MANNOL ATF DEXRON DIII 1L METAL | 3160 |
| MANNOL ATF AG 52 AUTO.SPECIAL 1L METAL | 3680 |
| МАСЛО МОТОРНОЕ ЛУКОЙЛ СУПЕР 10W-40 SG/CD  4 Л. | 7410 |
| CHEMPIOIL ULTRA XTT 5W40 SN/CF 1L | 2510 |
| МАСЛО МОТОРНОЕ SHELL HELIX СИНТЕТИКА ULTRA 0W40 1 Л. | 5220 |
| МАСЛО МОТОРНОЕ ЛУКОЙЛ 2Т 4 Л. | 5000 |
| MANNOL ADBLUE AD3001 20L. | 15000 |
| МАСЛО CASTROL MAGNATEC 5W40 A3/B4  1L | 6030 |
| МАСЛО МОТОРНОЕ KIXX G1 5W30 1Л | 3340 |
| МАСЛО МОТОРНОЕ SPORT 4T MOTO 5 W 40 API SL | 3190 |
| МАСЛО МОТОРНОЕ POWER 4T MOTO 15 W 40 | 1600 |
| МАСЛО МОТОРНОЕ PRO PLUS MOTO 10 W 40 API SL | 2830 |
| SUPER 2T API TC JASO ISO | 1430 |
| МАСЛО МОТОРНОЕ MAGNUM 4T MOTO SAE 0 W 40 SJ | 3770 |
| МАСЛО SNOW FORCE 2T MOTOR OIL | 3770 |
| МАСЛО SNOW FORCE 2T | 12330 |
| МАСЛО МОТОРНОЕ ЛУКОЙЛ GENESIS UNIVERSAL 10W-40 SN/CF 1 Л. | 3180 |
| МАСЛА ЛУКОЙЛ ДИЗЕЛЬ М-8ДМ (20Л) | 12330 |
| МАСЛА ЛУКОЙЛ ДИЗЕЛЬ М-8Г2К (20Л) | 11900 |
| МАСЛА ЛУКОЙЛ ДИЗЕЛЬ М-10ДМ (20Л) | 13050 |
| МАСЛА ЛУКОЙЛ ДИЗЕЛЬ М-10-Г2К (20Л) 16КГ. | 13050 |
| МАСЛО ГАЗПРОМ НЕФТЬ SUPER 10W-40 1,0 МОТОРНОЕ П/СИНТЕТИКА, API SG/CD, ШТ | 1450 |
| МАСЛО ГАЗПРОМ НЕФТЬ STANDARD 10W-40 1,0 МОТОРНОЕ П/СИНТЕТИКА ВСЕСЕЗОН., API SF/CC , ШТ | 1710 |
| МАСЛО ГАЗПРОМ НЕФТЬ PREMIUM L 10W-40 1,0 API SL/CF , ШТ | 1870 |
| МАСЛО ГАЗПРОМ НЕФТЬ SUPER 5W-40 1,0 МОТОРНОЕ СИНТЕТИЧЕСКОЕ, API SG/CD, ШТ | 1790 |
| МАСЛО ГАЗПРОМ НЕФТЬ MOTO 2T МОТОРНОЕ ДЛЯ ДВУХТАКТНЫХ БЕНЗИНОВЫХ ДВИГАТЕЛЯХ С ВОЗДУШНЫМ ОХЛАЖДЕНИЕМ, ШТ | 1540 |
| МАСЛО ГАЗПРОМ НЕФТЬ PREMIUM N 5W-40 1,0 API SN/CF, ШТ | 3100 |
| МАСЛО G-ENERGY EXPERT L 10W-40 1,0 МОТОРНОЕ ПОЛУСИНТЕТИЧЕСКОЕ, ШТ | 1870 |
| МАСЛО ГАЗПРОМ НЕФТЬ ATF DX II 1Л, ШТ | 1970 |
| МАСЛО G-ENERGY EXPERT G 10W-40 1Л  МОТОРНОЕ П/СИНТЕТИКА ВСЕСЕЗОН., API SG/CD, ШТ | 1760 |
| МАСЛО G-ENERGY EXPERT L 5W-40 1,0 МОТОРНОЕ ПОЛУСИНТЕТИЧЕСКОЕ, ШТ | 2440 |
| МАСЛО G-ENERGY SYNTHETIC ACTIVE 5W-40 1Л МОТОРНОЕ СИНТЕТИЧЕСКОЕ, ACEA A3/B4, API SN/CF, ШТ | 2610 |
| МАСЛО ГАЗПРОМ НЕФТЬ ATF DXIII 1,0, ШТ | 2480 |
| ГАЗПРОМ НЕФТЬ DIESEL EXTRA 10W-40 20ЛИТРОВ, 0 МОТОРНОЕ ПОЛУСИНТЕТИЧЕСКОЕ, ШТ | 30260 |
| SHELL HELIX П/С HX7 5W40 1Л. | 4490 |
| SHELL HELIX П/С HX7 5W40 1Л. | 4490 |
| KIXX 15W-40 1Л | 3350 |
| KIXX 20W-50 1Л | 3350 |
| G-ENERGY EXPERT G 10W-40 4Л МОТОРНОЕ П/СИНТЕТИКА ВСЕСЕЗОН., API SG/CD, ШТ | 6660 |
| ГАЗПРОМ НЕФТЬ PREMIUM L 10W-40 4,0 API SL/CF , ШТ | 6800 |
| CASTROL MAGNATEC 5W40 SL/CF 1L | 5280 |
| MOBIL SUPER 3000 5W-30 X1 F-FE, 1 Л. | 5530 |
| MOBIL-1 5W-30 X1, 1 Л. | 6750 |
| MOBIL SUPER 3000 5W-30 XE, 1 Л. | 5250 |
| MOBIL-1 5W-30 ESP, 1 Л. | 7330 |
| MOBIL SUPER 2000 X1 5W-30 GSP 1 Л | 4040 |
| MOBIL SUPER 2000 X3 5W40 GSP 1 Л | 4040 |
| MOBIL-1 5W-30 X1, 1 Л. | 6280 |
| MOBIL-1 5W-30 FS, 1 Л. | 6280 |
| MOBIL-1 0W-20, 1 Л. | 7470 |
| MOBIL-1 5W-40 FS X1, 1 Л. | 6280 |
| ГАЗПРОМ НЕФТЬ STANDARD 15W-40 1,0 МОТОРНОЕ МИНЕРАЛЬНОЕ ВСЕСЕЗОН. API SF/CC, ШТ | 1700 |
| G-ENERGY EXPERT L 10W-40 4,0 МОТОРНОЕ ПОЛУСИНТЕТИЧЕСКОЕ | 7110 |
| G-ENERGY SYNTHETIC ACTIVE 5W-40 4Л МОТОРНОЕ СИНТЕТИЧЕСКОЕ, ACEA A3/B4, API SN/CF | 9900 |
| ГАЗПРОМ НЕФТЬ SUPER 10W-40 4,0 МОТОРНОЕ ПОЛУСИНТЕТИЧЕСКОЕ, ШТ | 6340 |
| ГАЗПРОМ НЕФТЬ SUPER 15W-40 4,0 МОТОРНОЕ МИНЕРАЛЬНОЕ, API SG/CD | 6110 |